Investment - Boudoir
Let's talk boudoir. Love sessions, intimate portraits, there's a ton of names for boudoir portraits. None of them are wrong! The session and what you want to gain from it, is in your hands. You want sexy photos for your significant other? Great! You want to celebrate that post-baby body with confidence? Great! You want to make some art with your significant other in a safe space? Great! We welcome all genders to celebrate their bodies, have a great time, and make fine art portraits.
included in a boudoir session
a no obligation pre-session consultation. This is the perfect time to let us know what type of session you're hoping for so we can make your dreams a reality. We'll take you (or both of you) out for a drink and chat about what your goals are for the session, and how we can help you make that happen.

complimentary styling consultation. We'll sit down together and plan out your outfits for your session. We'll help you find flattering attire for your body type that you would feel confident in. We'll go over your ideas, and provide suggestions based on your wardrobe or budget. This can be done at the pre-session consultation if you're ready. In the meantime, check out some of our suggestions for lingerie that we love 1 2 3 4 5

complementary professional hair and makeup. If applicable, our HMUA will pamper you with a look of your choice, and help your features jump on camera. We choose from a pool of professional HMUAs who we have worked with before, and come highly recommended!

session time! We will spend approximately three hours taking you through a variety of poses either on location, at our Downtown Grand Rapids studio space, or even in your home. We'll make sure you feel confident and comfortable with small adjustments and gentle posing guidance. We can squeal over the back of the camera together at all that fierceness you're bringing to the table.

professional image retouching. Every image is closely inspected, and "culled" through to find the best choices. We then take those choices and edit them individually for exposure, contrast, color correction, straighten and crop them, as well as gentle skin retouching and other minor aesthetic edits on a case by case basis. We won't edit your body type, shave weight off, or edit distinctive markings because these are what make you, you!

an intimate reveal session. You'll have the chance to sit down and watch a slideshow of your images in our studio space. We'll show you the gallery to choose from, and help you build a package to fit your needs. We will show you your physical images, as well as some other samples we offer. Every boudoir session includes a $75 print credit to get you started.

complementary prints. If you choose to sign a model release (all images are kept 100% private unless we have this), we offer two complementary matted 5x7 gift prints on archival Hahnemühle museum etching paper to keep for yourself, or gift to a special someone.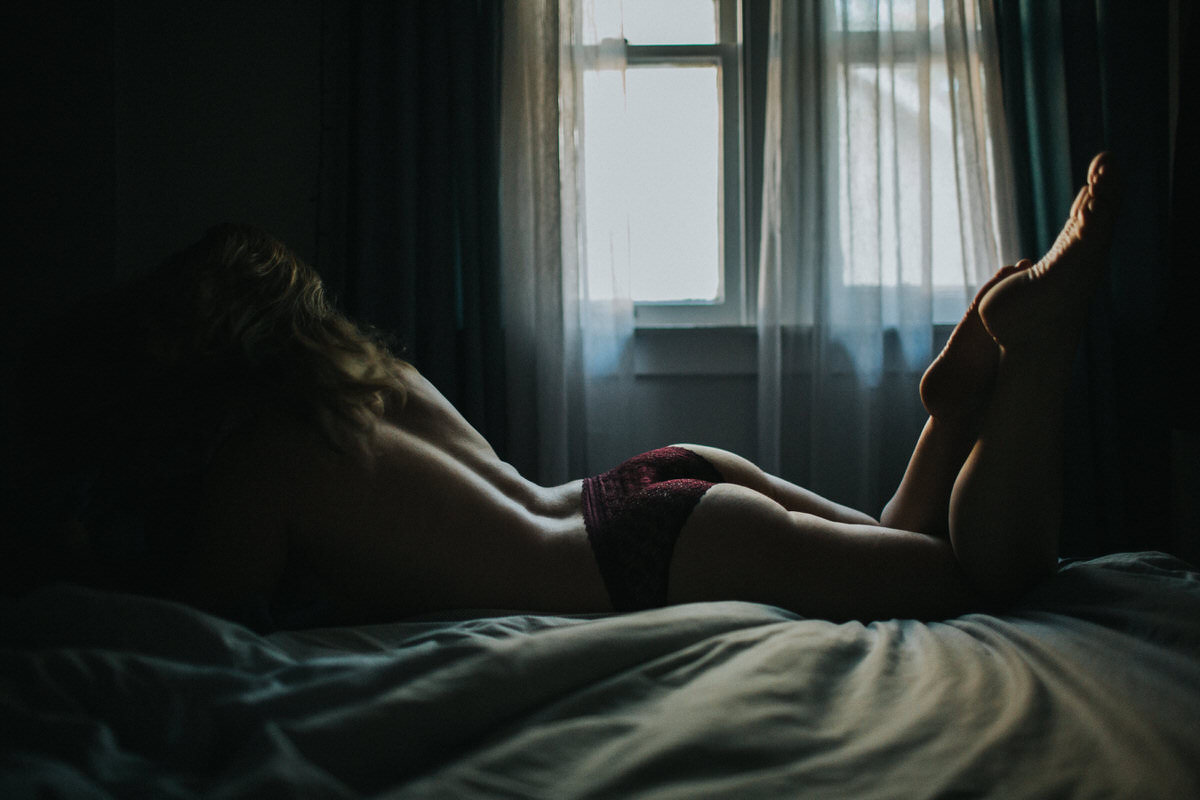 I'm ready to feel confident